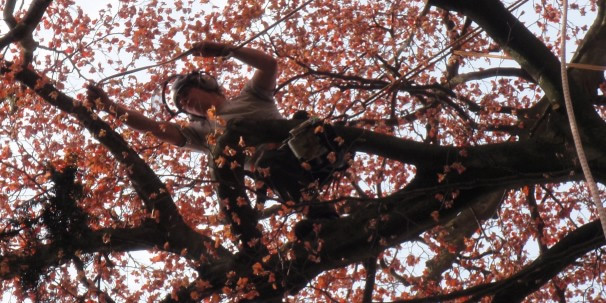 Tree Pruning
We offer expert tree pruning to suit your situation, be it a large tree in a small garden or dangerous trees requiring attention. Work is carried out by fully trained and professional staff using cutting edge dismantling and rigging techniques avoiding any damage to your property. All work is carried out to BS 3998:2010 'Tree work – Recommendations'.
Trees are sympathetically pruned to train their form and remove any defects, create good spacing of their branches and reduce the risk of structural failure and therefore maintenance costs in the future.
Diagnosis of appropriate tree care
By understanding and appreciating the complex and delicate balance surrounding the ecosystem of trees, from the form of their growth, to the roots and soil, the habitat of bats, birds, bugs and fungi, there are many elements that must be observed and understood in order to carry out the best posable treework.
Each job is tailored to suit both the client and tree, by contacting Lauran in our office on 01442 244698 we can arrange for a fully qualified arborist to provide free advice and quotations at a time that is suited to you.
Other Services